Vacancy – Parish Clerk and Responsible Finance Officer
---
General Election – December 12th 2019
---
Public Space Protection Orders
Dear Residents,
East Staffordshire Borough Council (ESBC) has considered all requests for public space protection (PSPO) and has made decisions based on information and evidence submitted and from information held on our records. We considered all current areas and whether any alterations were required. We also considered new requests or removing any existing ones where they are no longer required.
A full list of the PSPO's can be found on the East Staffordshire Borough Council's website www.eaststaffsbc.gov.uk and search PSPO dogs or PSPO alcohol.
Any queries regarding the PSPO information on the East Staffordshire Borough Council's website please email the PSPO@eaststaffsbc.gov.uk direct.
---
Register to Vote 
In order to vote on the 12th December you must be registered by Tuesday 26th November.
http://www.eaststaffsbc.gov.uk/elections/register-to-vote
---
We need your help, if you spot a drain issue please report it directly to Severn Trent
Thank You
https://www.stwater.co.uk/in-my-area/report-a-problem/
---
The Community Council of Staffordshire has asked the Parish Council to make residents and local groups aware of the following:
The Rural Development Fund awards small grants of up to £1000 to small rural community groups across Staffordshire and Stoke, where they have a specific need.
The main beneficiaries of this fund are small community and voluntary groups in Staffordshire and Stoke, where their income is less than £30,000 per annum. The groups must be based or working in Staffordshire or Stoke and cannot be operating outside of the county. The aims of the project should be working towards the encouragement and promotion of developing rural community life.
Panel meetings are held to determine whether applicants should receive funding and if so how much. Time sensitive applications may be considered outside of the usual panel dates or in the case of an emergency, but this is at the discretion of the donor advisers of the fund. You are advised to call Support Staffordshire first to see whether your application would meet this need.
For a full breakdown of the grants criteria and supporting documentation guidance, please visit our webpage via the link below.
https://staffsfoundation.org.uk/grants/ruraldevelopmentfund/
Deadline: 27th August 2019
---
A new way to report Footpath Issues.
The Parish Council have been advised that a new way has been created to report and issues with Footpaths and Rights of Way.
Please follow the link below.
https://www.staffordshire.gov.uk/environment/RightsofWay/home.aspx
June Staffordshire Police Update
Newsletter design_June19_A4_v4.pdf
---
Notice of Poll – 2nd May 2019
Borough Council Elections – Notice Of Poll Crown Ward
---
Borough and Parish Council Elections – 2nd May 2019.
Nomination packs are now available from the Parish Clerk – marchingtonpc@gmail.com or by calling 07549 164641. All forms must be returned to Burton Town Hall by 4pm on 3rd April 2019
---
Community Orchard Pruning Session
Our expert Jeff Bates and lots of enthusiastic participants eager to learn a new skill all followed by refreshments in a gorgeous setting.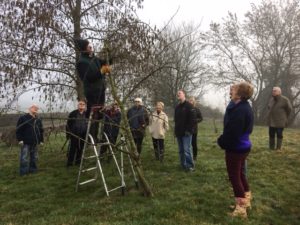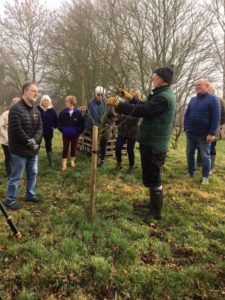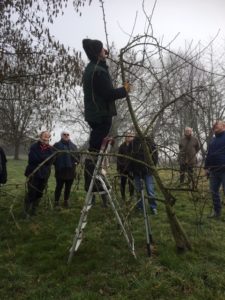 ---
22nd February 2019 – Natwest Cricket Force National Showcase
The Cricket Club in the village has won an award to become the Natwest/ECB Cricket Force Showcase Club for 2019.
🏏 NatWest Cricket Force National Showcase
🚀 Launch Event – All Welcome
🗓 Friday 22nd February
🕰 7:30pm
🗺 Marchington Village Hall, ST14 8NF
---
2nd May 2019 – Local Elections – Borough and Parish
The Local Elections will be held on 2nd May 2019.  We will have some places to fill on the Parish Council come May due to some retirements.  Anyone interested in standing is more than welcome to attend our meetings to see what we do, its not all quite like the Vicar of Dibley – although it can sometimes feel like it!  Please contact Catherine – marchingtonpc@gmail.com for more information
---
Flood Warden Training – 26th January – 9am
If you are interested helping your community by becoming a Flood Warden or joining the Flood Action Group then please do come to the Village Hall on Saturday 26th January from 9am to Midday where a training event is being held by the Staffordshire Civil Contingencies Unit where you will be able to learn how you can help your fellow residents.
---
Incident – 18th November
On Sunday 18th November at 9.08am a Marchington resident while out cycling was seriously injured in a hit and run at the junction of Houndhill and Silver Lane.
If anyone has any information that would help please can they contact PC Tony Johnson 5319 at Burton Police Station.
0300 123 4455
---
Bulb Planting and Community Orchard News
Over 400 bulbs have been planted around the village by a fantastic team of volunteers. These were purchased from funds raised during the Open Gardens over the Festival Weekend.
A group from the "Wellies project" will soon be creating bug hotels and bird boxes to enhance the Orchard. As ever a huge thank you to Jane Hilton for all her work.

---
Thank you to all the Village Clean Up helpers who gave their time on Saturday it really was appreciated.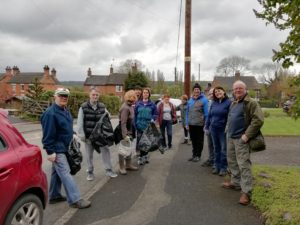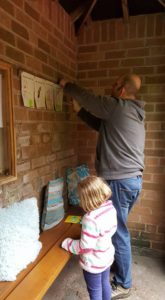 ---
Huge thanks to everyone who came and helped us to update the orchard.